83 North Ave
Webster, NY 14580
Originally located at the corner's of Clifford and Goodman & Clifford and Portland Aves
Home of "THE ORIGINAL ICE CREAM CAKE"
We will be closed August 24th through September 8th
These cakes have been made the same way for the past 60 years. They're made of layers of vanilla, chocolate and strawberry ice cream with a layer of strawberries and another layer that combines pineapple, peach and banana. They're finished off with a rich ice cream icing.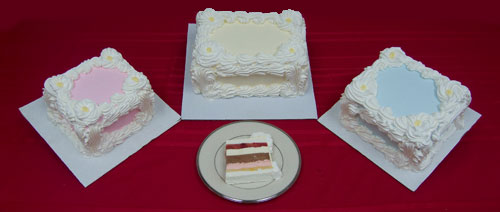 Decorated to suit any occasion
# Servings
Cake Price
12
$21.95
16
$29.95
20
$36.95
24
$42.50
32
$56.95
40
$71.50
48
$78.95
64
$106.50
80
$132.00
Call for more information and ordering
(585) 872-6460
(Please allow us a couple days to prepare your order)
We also have a large selection of chocolates